China Sisters (1979)
This solid Sam Weston sleeper ranks, apart from his better-known and more widely available Portrait of Seduction, as the only other film to star the incredible Vicky Lyon (who had tentatively started out in a non-sex capacity on Bob Chinn's minor Love Slaves), then wife of reliable porn performer Turk Lyon and allegedly a "proper" actress if contemporary magazine coverage - much of which eventually proved fabricated - was to be believed. Sam was so taken with her that he rushed this unassuming star vehicle into production just prior to hitting his big budget period with SexWorld, Talk Dirty to Me and all the rest.
Though Caucasian, a sterling make up job lends credence to Lyon being cast as Eurasian - Chinese mom/American dad - 32 year old school teacher Gloria Chin (whose last name surely puts her claimed heritage into question ?), recording her sexual memoirs on Dictaphone (remember those ?), episodes of which shape the film's free form narrative similar to Weston's earlier and often unjustly maligned Linda Wong showcase Oriental Babysitter. She seduces an adoring student (Robby Robinson, whose only other credit appears to be for a non-sex bit in Gail Palmer's Erotic Adventures of Candy) with a master's hand in a splendid older woman/younger man fantasy scenario. This serves as a prelude to setting up the movie's narrative arc, slender though it may be, her initiation of kid sister Barbara played by China Leigh (billed as "Tina Wong"), an authentically Oriental performer of some longevity who worked mostly for Fred Lincoln, perhaps most memorably as the showcased star's fairy godmother in Serena : An Adult Fairytale. Their bubble bath girl on girl grope ranks as a certifiable classic of its kind with various body parts being raised from and lowered back into the sudsy foam as the action grows ever more frantic, exquisitely shot by then fledgling Jim Slater who would go on to become one of the industry's most sought after lighting and camera technicians during the video era.
Conflict looms large as Barbara's engaged to a gay guy who understandably encounters problems when attempting to perform with his fiancée. Ever the Samaritan, Gloria steps in, hurling verbal abuse (an impressively obscene tirade that seems to confirm the actress's claimed thespian clout) and wielding a mean strap-on for a mighty pegging of former gay porn icon Jack Wrangler, making his straight sex debut (as well as, by his own admission in the extremely entertaining documentary Wrangler : Anatomy of an Icon, his first sexual experience ever with a member of the opposite sex), cannily constructed by the director as the mirrored life imitating art "turning" of an acknowledged homosexual that heterosexual audiences would be able to accept and (possibly) cheer. Trivia note : as on most of his all male epics, Wrangler's Marcel wave is attributed to "Sigi of Beverly Hills" who was, according to the knowledgeable fans on the avmaniacs erotica forum (a neverending source of information and, well, wonder to me), a barber who offered free haircuts to former Vietnam POW's and presumably provided same for Jack - who was turned down for military duty based on health issues - in exchange for the PR boost that came with...porn credits ?
As in Cry for Cindy, which kicked off a ten year collaborative effort between filmmaker and actor, John Leslie appears playing a much older man than he was at the time. Perhaps the most explosive erotic scenario is saved for last however, with dependable character actor Jack Wright adding another convincingly slimy turn to an already veritable rogues gallery as fellow teacher Bobby Hammond inviting Gloria over for an evening of sipping wine and correcting papers. Unbeknown to her, he has bound and gagged his (willing) spouse (ravishing redhead Phaedra Grant who achieved immediate intimate immortality as the banana girl in Bob Chinn's hospital hardcore classic Candy Stripers), shielding her from view in the closet - something of a recurring theme throughout this movie, both in the literal and figurative sense - so she can spy on her husband's extra-curricular escapade. A Spinelli regular, most memorable for portraying the smug bestselling author Victor who proves instrumental in Jesie St. James' downfall in Easy, Wright was another "real" actor rumored to never have actively participated in the explicit exploits that this line of work required. This claim was at least partly refuted by the aforementioned career performance, his scene with the leading lady on a sunlit rooftop terrace amidst the bird cages showing clearly non-simulated oral gratification on both giving and receiving ends.
Directed, written & produced by Sam Weston (as Anthony Spinelli). Photographed by Jim Slater. Edited by Bill Barnes. Starring Vicky Lyon (Gloria Chin), China Leigh (as Tina Wong) (Barbara Chin), John Leslie (Mr. Hollis), Jack Wright (Bobby Hammond), Phaedra Grant (as Lisa Grant) (Joyce Hammond), Jack Wrangler (Barbara's Gay Boyfriend), Don Fernando (Student) & Robby Robinson (Gloria's Lover). Running time : 78 minutes.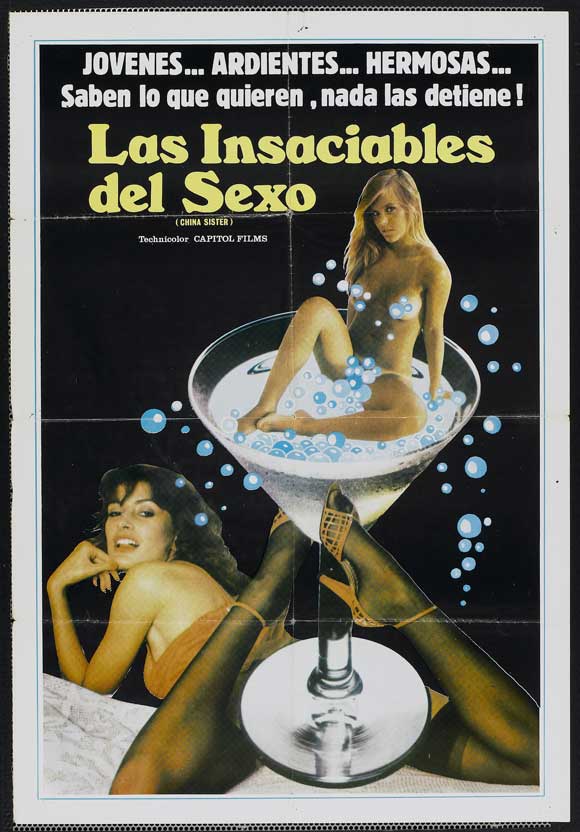 Wholly inappropriate Spanish poster art at least visually references the showstopping sudsy Sapphic scene, even though the models pictured are of clearly later vintage